June 2015 — Issue 123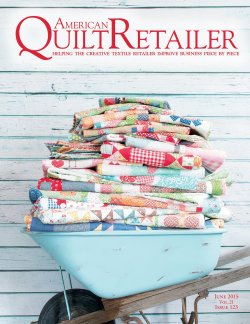 The June issue of American Quilt Retailer mailed to subscribers on June 22, 2015.
We hope that you can take some time to grab a refreshing beverage and settle in for an afternoon read, sure to educate and inspire. This issue is overflowing with news you can use including a comprehensive 10 page Spring Market Review story.
Still not sure how to handle Christmas fabric in the middle of summer? Check our inspirational feature which includes a gorgeous mash-up that we like to call Americana Christmas.
Issue Contents:
Spring Quilt Market Review
Focus Your Time by Bob Negen
Group Mentality — Facebook Groups by Roseann Kermes
Content School by Judi Ketteler
Quilt Shop Focus: High Prairie Quilts
Designer Profile: Gudrun Erla
Technology as a Valuable Sales Assistant by Kizer & Bender
Inspiration Add-On: Americana Christmas
Fabric Folding Feature
Snippets: Industry news and events
Free-to-Use Pattern: Summertime Charm
Summertime Charm
Summertime Charm is a One-Patch design — one shape is used throughout the entire quilt. Traditionally, One-Patch designs were created as charm quilts, never repeating a fabric. It uses a 60-degree triangle to create a dynamic and versatile design.
Summertime Charm was designed by Heidi Kaisand — the Editor of American Quilt Retailer. It includes 4 size options and 3 different fabric kitting options.
Everyone who has subscribed to or purchased a copy of this issue is welcome to download a copy of the pattern PDF to use in their shop.
The next issue of American Quilt Retailer will mail to subscribers approximately August 11, 2015.
For subscription or advertising information please visit AmericanQuiltRetailer.com